Catechetical Ministry of the Church of the Holy Trinity
As Catechists, we aim to be agents of the new evangelisation through personal witness, community and prayer life to proclaim the Good News and teachings of the Catholic Church to children and youths for the glory of God.
What we do:
We create platforms for children and youths to encounter God.
We give children and youths the foundation of prayer, the Sacraments, the Mass, the Bible, the church's history and its social mission.
We also expose youths to their evangelical mission.
Catechetical Timings:
Levels 1 to 6
SATURDAYS
Levels 4, 5 & 6
2.30 – 3.45 p.m.
Levels 1, 2 & 3
4.00 – 5.15 p.m.
SUNDAYS
Levels 3, 5 & 6
8.00 – 9.15 a.m.
Levels 1, 2 & 4
9.30 – 10.45 a.m.
Superkids (ages 3 to 6)
9.30 – 10.30 a.m.
Special Needs
9.30 – 10.30 a.m.
Levels 7 to 9
11.15 a.m. – 12.45 p.m.
Our Catechists meet twice a week: once for the breaking of the Word and to discuss the session for the weekend and another to catechise the children/youths.
If you are interested to find out more, you can drop us an email at the following address:
smv11@yahoo.comor (Level 1 to 6 matters) or call Mary at 96604219
htc.con.cath@gmail.com(Level 7 to 9 matters)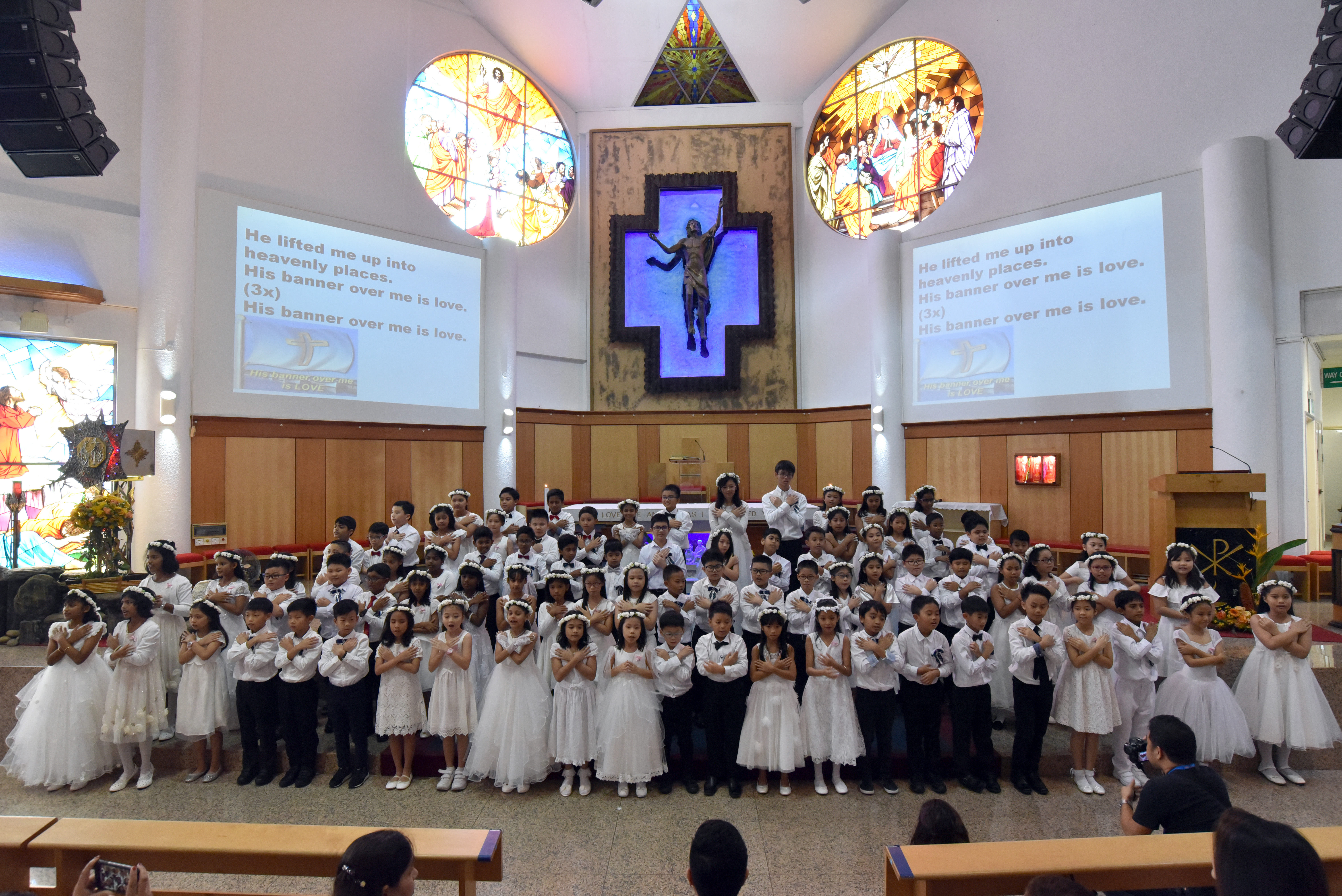 Our First Holy Communicants 2018
Rite of Christian Initiation for Adults (RCIA)
What we do:
We share our faith and help others to discover Jesus
This is a journey of faith for those seeking to know more about the Catholic faith
Baptised Catholics are invited on this journey as sponsors
For queries, please email rciaht@gmail.com
Parish Renewal Experience (PRE)
PRE is a four-day programme which guides individuals spiritually and places emphasis on the community. PRE is a conversion experience, a rediscovery of our faith and a strong call to reunite with the church. It's about parishioners renewing themselves and realising we are one big family living together and loving one another.
What we do:
• We promote love for God and love for one another
• We respond to the search for direction and requests for strengthening and deepening the life of parishioners
• We give parishioners a true taste of dignity as members of the Body of Christ
• We strive to cultivate commitment and a sense of belonging to one another as a church. We aim to unify the parish.