Holy Trinity Church Chinese Ministry (天主圣三堂华文部)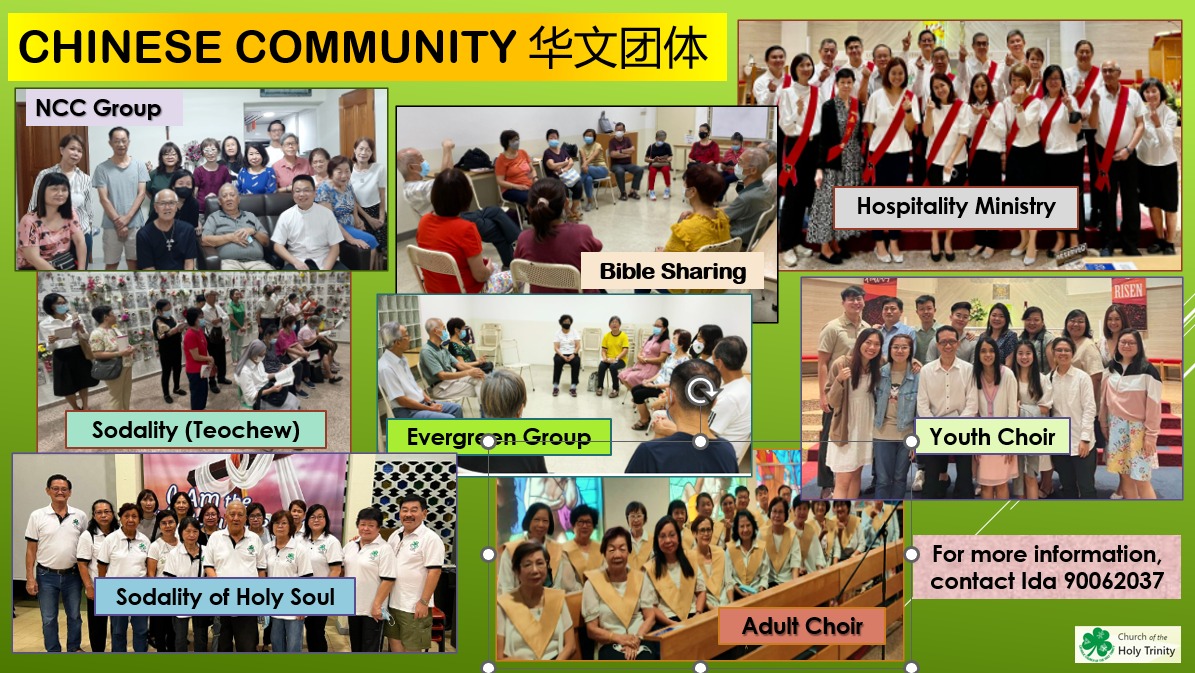 天主圣三堂华文部
华文部通过华语来敬拜天主,度信仰的生活。目前共有18个团体,在礼仪,信仰培育,祈祷,共融,与服务上为堂区教友服务。各团体的主席共同组成堂区华文委员会(简称华委),在现任堂区主任郭英华神父,指导神师张伟刚神父和林子毅神父的共同督导下,服务于推动堂区华文教务,协调各团体,并举办活动,以提升教友的信仰与灵修,促进共融。
这18个团体为:成人慕道团,儿童要理班,四团圣母军(圣母领报,天主之母,圣母升天,诸圣之后),二支歌咏团(成人与青年)读经团,二团家庭祈祷团(白沙,淡滨尼),服务员,圣体员,圣言宣读组,长青团,神圣慈悲敬礼,炼灵祈祷团,潮语祈祷组。
本堂的主日华语弥撒于早上八点半举行,目前约有400位教友参加主日弥撒。我们欢迎更多教友积极参加华文团体,更欢迎教外朋友来认识天主教。具体详情请咨询堂区办公室,电话:67842332
也可联络华委主席蔡瑞珠Ida: 90062037
The Neocatechumenal Way
The Neocatechumenal Way, a fruit of the Second Vatican Council, is a charism that the Holy Spirit has given to the Church as a way of Christian initiation or re-initiation. It is an instrument, which promotes a new and vigorous evangelisation. For more than forty years, it has been favouring a gradual but radical rediscovery of the riches of baptism.
The NCWay community was founded in 2001. We have 45 members ranging from 18 to 76 years old. Our young adults are from the St Bernadette community, the first in Singapore.
What we do:
• We seek to form a Christian community like the Holy Family of Nazareth; to live in humility, simplicity and praise, where the other is Christ
• We are in the stage of Initiation to Prayer where we are required to pray the Morning Lauds, from the Divine Office, daily
• Annually, we celebrate Easter with the Community with an overnight vigil to welcome the Risen Lord
Couples for Christ (CFC)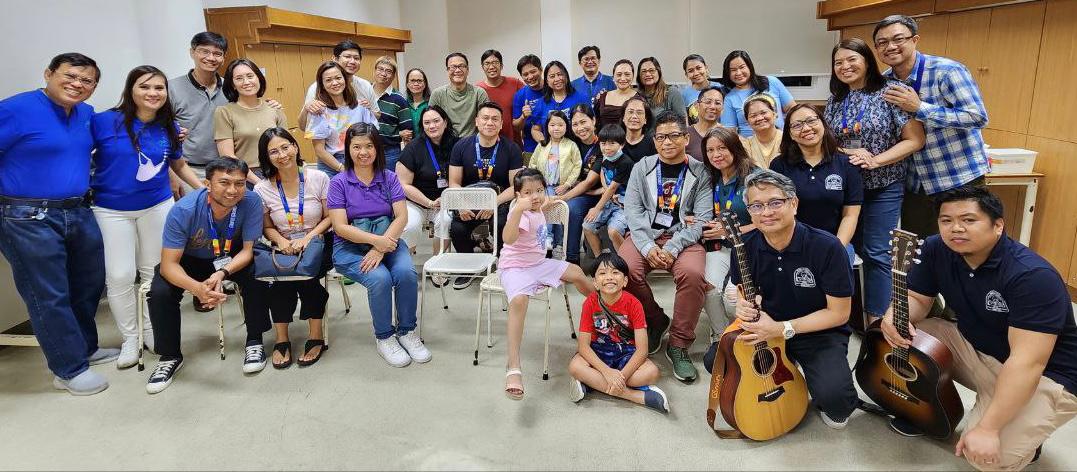 Introduction
Couples for Christ-Singapore (CFC) is a part of a worldwide family life renewal ministry, whose mission is to renew and build strong Christian marriages and families within the parish it represents. CFC is an affiliate of the Family Life Society which carries out her role as a lay apostolate group bringing families back to the plan of God. CFC is called to bring the Lord's strength and light to those who are struggling to be truly Christian families in the modern world. It has 6 family ministries where evangelization starts at the youngest and progress as they grow. Couples for Christ – married couples, Handmaids of the Lord – single mother or matured women, Servants of the Lord – single father or matured men, Singles for Christ – young adults, Youth for Christ – teenagers, and Kids for Christ.
Monthly Activities:
Week 1: Prayer Assembly
Week 2: Household meeting
Week 3: Pastoral Teaching
Week 4: Household meeting
Yearly Activities:
Theme Weekend Retreat
Anniversary
Marriage Enrichment Retreat (MER)
Youth camps
Conferences
Upcoming Events
Christian Life Program

Starting July 22, 5:30pm at room 19.
Contact Person
Bro Harry 97604214 / Sis Maricelle 90927211
WHERE AND HOW DID CFC BEGIN?
CFC began in 1981 in Manila, Philippines, when Ang Ligaya ng Panginoon (Joy in the Lord), a covenanted Christian charismatic community, realized that to effectively renew society, a conversion of both spouses, and consequently families, to Christ was necessary.
The method used consisted of bringing together a small group of prospective couples in a private home. There they were brought to a living relationship with Jesus Christ and to renewal in the power of the Holy Spirit through a series of weekly informal discussions of the gospel in a social environment.
Beginning from the first 16 couples who joined the weekly gathering, CFC became a Christian family life renewal which was later made available to parishes and groups of married couples who wished to live out their Christian life in an active supportive relationship with one another.
The growth of CFC stemmed from its heart for mission and evangelization and its commitment to sharing God's love with others, beginning from the basic unit – the family.  It did not take long for CFC to realize that while a couple renewal was essential, it would be incomplete without family renewal.
RELATED ARTICLE: Family Ministries

Through the years, CFC has blossomed into a worldwide ministry, becoming a major force for the renewal of the Christian family life and also of the church.
RELATED ARTICLE: CFC Historical Timeline
WHY SUCH A MINISTRY?
CFC wants to rise in defense of the family, which is God抯 work. CFC wants to bring God抯 strength and light to those who are struggling to be truly Christian families in the modern world.
WHO CAN BECOME MEMBERS OF CFC?
Any validly married Catholic couple can become members of CFC. Although a Catholic movement/organization, CFC remains open to having non-Catholic Christians as members. CFC draws its membership from all sectors of society, young and old, rich and poor, etc. CFC transcends all cultural, economic, educational, social and other distinctions.
RECOGNITION
In 1996, CFC was approved by the Catholic Bishop's Conference of the Philippines as a national private association of lay faithful.  In 2000, CFC was recognized by the Holy See (Vatican) as a private international association of the lay faithful of pontifical right.
Simei Neighbourhood Christian Community (NCC)
Our members are parishioners staying around Simei
What we do:
We reach out to parishioners residing in and around Simei to participate in rosary prayers, Bible-sharing, potluck fellowships, prayer leading at wakes and various church activities.
For enquiries, contact Stella Rozario at 96642275