Charismatic Prayer Community (CPC)
The Charismatic Prayer Community was formed in 2002 to foster a conducive environment to encounter God, the Father and the Holy Spirit. Through the help of the Holy Spirit we seek to renew and strengthen fellow Catholics to live out a full Christian life and mission.
What we do:
• We glorify God through praise and worship, Masses, intercessions, ministering, testimonials, prayers of healing and breaking of the Word
• We also organise sharing, teaching, formation programmes, retreats and Life in the Spirit' seminars
Join us every Tuesday at 7.45 pm in the Parish Hall or connect with us through our Facebook page https://www.facebook.com/cpc.holytrinity.sg for our programme updates.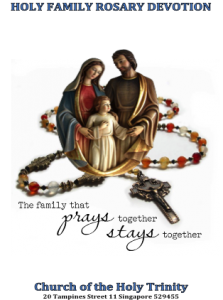 The Holy Family Rosary Devotion Group
All are welcome to invite the Holy Family Shrine to your home
Our ministry was established since the Church of Holy Trinity started in 1990.
We honour the presence of the Holy Family of Nazareth through our weekly devotion prayers at the homes of our parishioners.  Every week, our Holy Family Shrine will stay on with the family for 7 days to pray the rosary.
Our Mission-to cultivate a spiritual prayer journey with the presence of Jesus, praying fervently for the intercession of Mother Mary and seeking St Joseph for protection of families.
Our Vision- All-time favourite prayer in our parishioner's home. We believe that praying together brings love and unity within the family and helps to strengthen community spirit in church.
"We pray because we strongly believe that…
the FAMILYthat PRAYStogether STAYStogether"
Our Holy Family Rosary members
Our members wil lead prayers in the parishioner's home on every
Monday & Tuesday (prayers start at 815pm and lasts for 50 mins)
Sunday (collection of Holy Family Shrine and transferring to another home)within Tampines, Simei and Pasir Ris areas only.  All prayer materials are provided by church, you only need to provide a table to set up
the Holy Family Shrine. .
You will find details on the home that Holy Family is staying.. on the Church's weekly bulletin or contact us.
Spiritual Director :Fr Joe Dinesh
Julliana Yeo Hp: 94468890
Maureen Tok Hp: 90156826
Legion of Mary
The Legion of Mary was founded in 1921 by the Servant of God, Franck Duff, in Dublin, Ireland. Our objective is for the personal sanctification of its members through prayers and spiritual exercises like retreats and seminars. Legionaries live an apostolic life through prayer and work in the spirit of Mary so that others may experience the love of Christ and encounter Him personally.
What we do:
• We visit homes for the aged, hospitals and homes of parishioners asking for prayers
• We actively participate in all functions, programmes and initiatives of the church
Christian Meditation
We are part of the World Community for Christian Meditation (WCCM), which is headquartered in London, headed by spiritual director Fr Laurence Freeman and locally coordinated by Peter Ng. We have 32 groups in Singapore spread out among parishes, homes, hospitals and prisons.
What we do:
• We teach and support the practice of Christian Meditation taught by Fr John Main OSB
• A simple method of contemplative prayer – Be still and know that I am God
Divine Mercy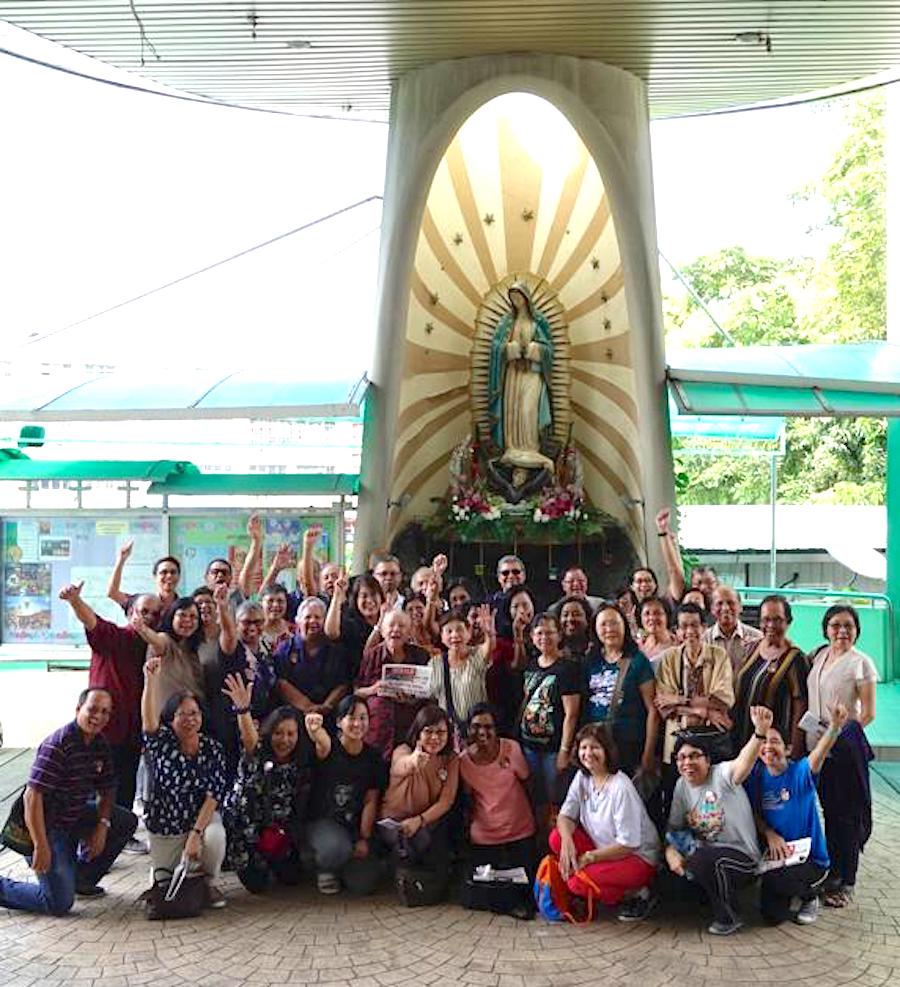 Be always merciful as I am merciful. Love everyone out of love for Me, even your greatest enemies, so that My mercy may be fully reflected in your heart.  (St. Faustina's Dairy 1695)
What we do:
We chant the Chaplet of Divine Mercy and Praises and share readings from St Faustina Dairy.
The souls that say this chaplet will be embraced by my Mercy during their lifetime and especially  at the hour of their death.  (St Faustina's Dairy 754)
We also pray for the salvation of souls especially the sick and dying.
Our mission is to carry out the work of mercy and be compassionate to others by our Deeds, Words and Prayers.
We have monthly Sunday prayers with our members praying for Priests and Families.
We also pray and journey with our parish Level 9 Confirmands during their service project attachment.
Social Activities:
We have occasional potlucks, serve canteen duty and outings.
Divine Mercy Devotion is held on every Friday at 8pm in the chapel
9 Days Novena to Divine Mercy which starts from Good Friday and ends on the Saturday before Divine Mercy Sunday. (in the chapel)
All are Welcome to join us!
Contact: Dorothy Conceicao (email: divinemercyhtc@gmail.com)
Sodality Prayer Group
We are a prayer group who gather to pray for the dead and their grieving families at wakes.
What we do:
• We pray for the dead and their loved ones
• We recite selected prayers and sing hymns at wakes
• Our prayers give consolation to loved ones in mourning