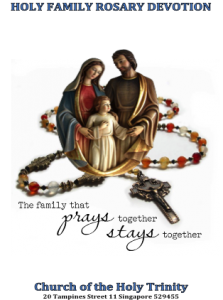 The Holy Family Rosary Devotion Group
All are welcome to invite the Holy Family Shrine to your home
Our ministry was established since the Church of Holy Trinity started in 1990.
We honour the presence of the Holy Family of Nazareth through our weekly devotion prayers at the homes of our parishioners.  Every week, our Holy Family Shrine will stay on with the family for 7 days to pray the rosary.
Our Mission-to cultivate a spiritual prayer journey with the presence of Jesus, praying fervently for the intercession of Mother Mary and seeking St Joseph for protection of families.
Our Vision- All-time favourite prayer in our parishioner's home. We believe that praying together brings love and unity within the family and helps to strengthen community spirit in church.
"We pray because we strongly believe that…
the FAMILYthat PRAYStogether STAYStogether"
Our Holy Family Rosary members
Our members wil lead prayers in the parishioner's home on every
Monday & Tuesday (prayers start at 815pm and lasts for 50 mins)
Sunday (collection of Holy Family Shrine and transferring to another home)within Tampines, Simei and Pasir Ris areas only.  All prayer materials are provided by church, you only need to provide a table to set up
the Holy Family Shrine. .
You will find details on the home that Holy Family is staying.. on the Church's weekly bulletin or contact us.
Spiritual Director :Fr Joe Dinesh
Julliana Yeo Hp: 94468890
Maureen Tok Hp: 90156826